About Us.
EasyShed is a dynamic, rapid growth D2C ecommerce brand, finding a home in thousands of Australians backyards every month. We are the largest manufacturer of steel garden sheds in Australia, with a vision to become the first choice in outdoor storage. Our expansion into new product categories through leveraging our ecommerce expertise, is fuelling a new growth curve that will see us cemented as a household brand in the lives of all Australians. We are a young, vibrant and ambitious team, with a dedication for customer happiness, integrity and a desire to disrupt the status quo. If you own that 'Can Do' attitude and are a team oriented individual, we'd love to see you join our rapidly growing team.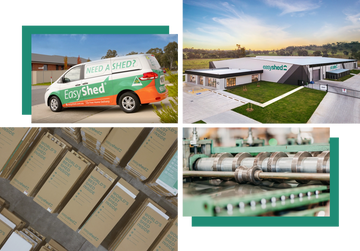 Jobs Available.
Sales Consultants
Albury (Head Office)
Sales | Sales
Representatives/Consultants
Full time
Key areas of the role
Responding to all leads generated by the marketing division within 24hours.
Providing innovative solutions to all customers, using a consultativeselling approach.
Work closely with the engineering team in the design of thesesolutions
Continuously meet and exceed industry standards of conversion rate.
Required Competencies
Proven experience in tele-sales, preferably within the steel shed industry is preferable but not essential.
Highly driven self starter, with a strong appetite for competition and ability to thrive in a fast-paced environment.
A strong & positive communicator.
A humble yet ambitious team player, who encourages, lifts and strengthens the individuals you work with.
A natural relater, with the ability to mirror and connect with different personality types in order to gain the customers confidence and win the business.
Attentive and people focused with an enjoyment for social interaction. Excellent time management skills; ability to manage priorities
Well organized with the ability to bring order and structure to your role
Display integrity and the ability to be a positive role model for others in the workplace
The perks
Awesome team culture - highly diverse, highly diverse, inclusive and motivated team.
State of the art office environment with an upbeat and positive vibe.
Networking opportunities with hundreds of business and industry leaders in the steel shed industry.
Unlimited opportunity for personal growth and personal remuneration.
To be successful in these roles, the company will be looking for people with strong work ethics, proven ability to perform in a fast-paced environment as well as possessing a high standard towards the safety of the team and workplace.
Please send your resume and a cover letter to careers@easyshed.com.au
Not up your alley?
Jump on our waiting list. As soon as we have a new position open, you'll be the first to hear! We are constantly looking for new seats to fill so our growth isn't hindered.