When it comes to finding the perfect home for your birds, there are a few things you need to take into consideration. The type of bird, the size and shape of the shed, and the location of the shed are all vital in creating a comfortable and safe environment for your birds.
First and foremost, the safety and security of the shed are of utmost importance. Make sure the aviary shed you choose is designed with these factors in mind. It should also be comfortable, and provide plenty of room for the animals to move around and stretch their wings. Finding the right one can seem daunting with so many different bird aviaries on the market. As long as you keep the bird's comfort and safety as a top priority, you're sure to find the right one. Here is a short guide to help you feel confident when making a purchase:
Consider the Breed of your Bird
When it comes to finding the perfect bird aviary for your pets, you need to consider the type of bird. Some birds, like parakeets, are content to live in a small cage, while others, like macaws, require more space. Let's not forget, that fowl houses for chooks are often created from a traditional Aviary shed. Secondly, you need to think about the bird's natural habitat. Different birds will require different living environments, and therefore you need to be careful when fitting out the sheds. Thirdly, most birds don't like tight spaces! Make sure to give them the space to stretch their wings, and lastly, if you have more than one bird, you need to make sure that they will be able to socialize and find companions.
The Best Size and Shape
Size and shape are two of the most important factors when giving your bird a comfortable environment. The shed should be of suitable size for your birds to move around and fly, but not so large that they feel lost or overwhelmed. Most standard sizes of an aviary are tall and skinny, giving our feathered friends the space to fly between different levels, whilst your shed isn't taking up too much space in the garden. Some of the shed walls should have mesh from the roof to at least halfway down, as this allows fresh air to flow through, whilst protecting them from larger animals. The shed should also have sturdy, hole-proof flooring, to protect them from predators. This can be achieved by installing the shed on a concrete slab.
Wait...What happens when you can't find an aviary that's big enough? Easy fix, the first step is to ensure you have a friendly team of birds who are willing to share their space. This can be done by connecting two aviary sheds together, giving them with the room they need to spread their wings and live their best lives.
 The best location for your Aviary Shed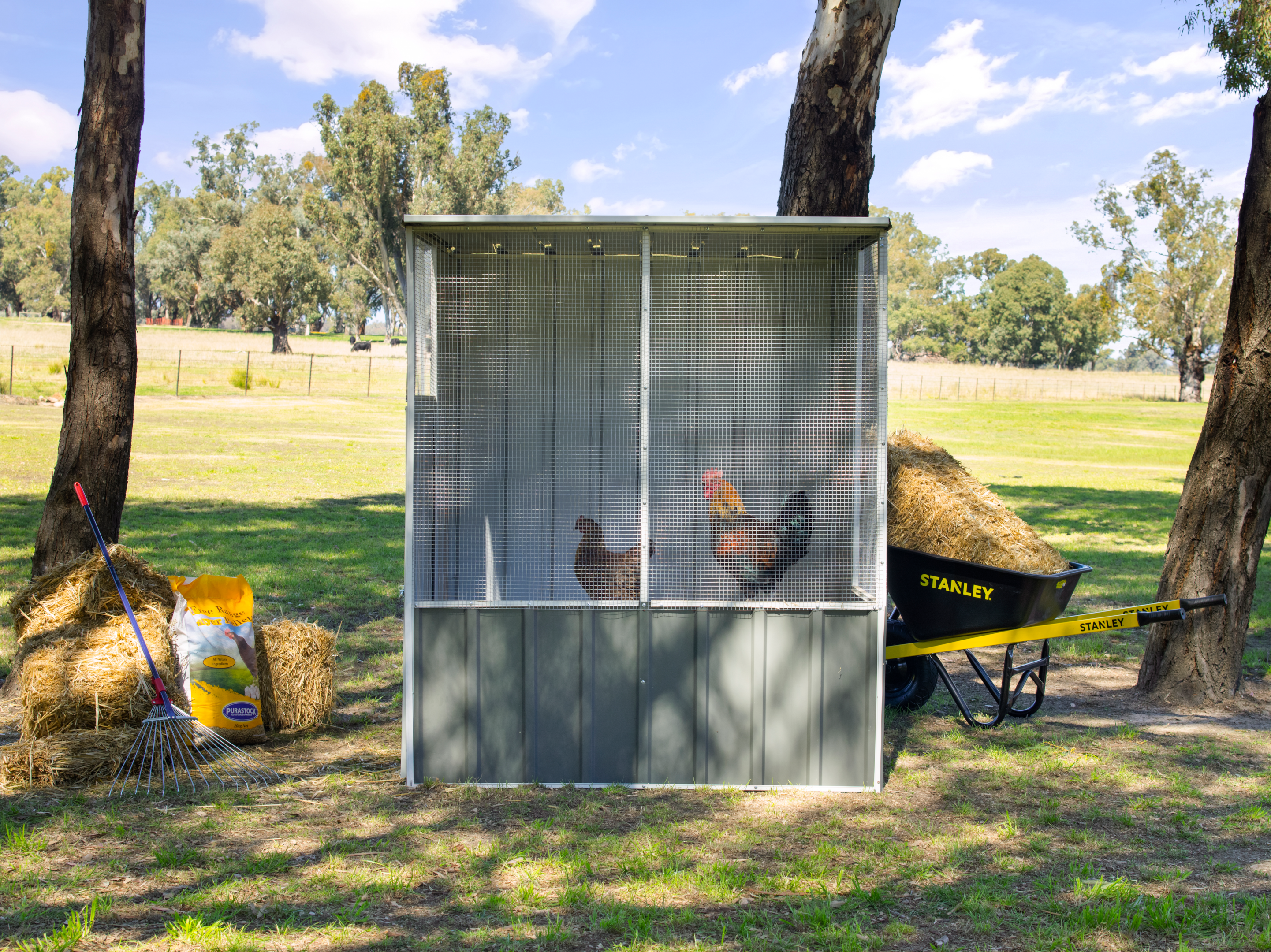 Have you considered the location of your aviary? It is important to factor in the location of the shed. It should be situated in an area that gets plenty of natural light, as this will help to keep the birds warm. However, it is important to avoid areas that are prone to harsh winds or heavy rain, as this can damage the aviary or cause the birds to become sick. Installing bird aviaries on a concrete slab is a good idea if your location is prone to heavy rain, and the ground is likely to become soft and compromise the stability of the shed.
Does your shed need Insulation?
Insulation is important for bird aviaries because it helps to regulate the temperature inside the enclosure. The sheds can be kept cooler in hot weather by reflecting heat away from the birds. It helps to keep the aviary warmer by trapping heat inside in cold weather. Insulation also helps to reduce noise levels inside the aviary, creating a more peaceful environment for the birds.
Safety & Security for your pet Birds
When buying an aviary for your pet birds, it is important to look for one that will offer them security and safety. It is best to source sheds that are made from high-tensile steel, to ensure durability, and protection from the Australian elements. If a concrete base is not an option for you, the floor should be covered with a soft material such as sand or hay. It is also important to make sure that the aviary is free from sharp objects that could injure your birds. By considering these factors, you can be sure to find an aviary that will provide your birds with a secure and enjoyable environment.
Final Thoughts 
So, whether you're looking for a spacious aviary to house your pet macaw or a small and cosy shed to accommodate your canaries, we have you and your bird covered! With so many different styles, sizes and shapes to choose from, we can guarantee you'll find the perfect bird shed at EasyShed. And because our sheds are made with safety and security in mind, you can rest assured knowing your beloved pet birds are well taken care of. Don't wait any longer – head on over to easyshed.com.au today and find the perfect bird aviary for your feathered friends!